Hand Crafted
Bespoke Brooch Bouquets
Exclusive And Unique
Every year Debbie Carlisle opens her diary to a select handful of couples to create a limited number of bespoke brooch bouquets - an exclusive and unique wedding keepsake that is the epitome of bridal luxury.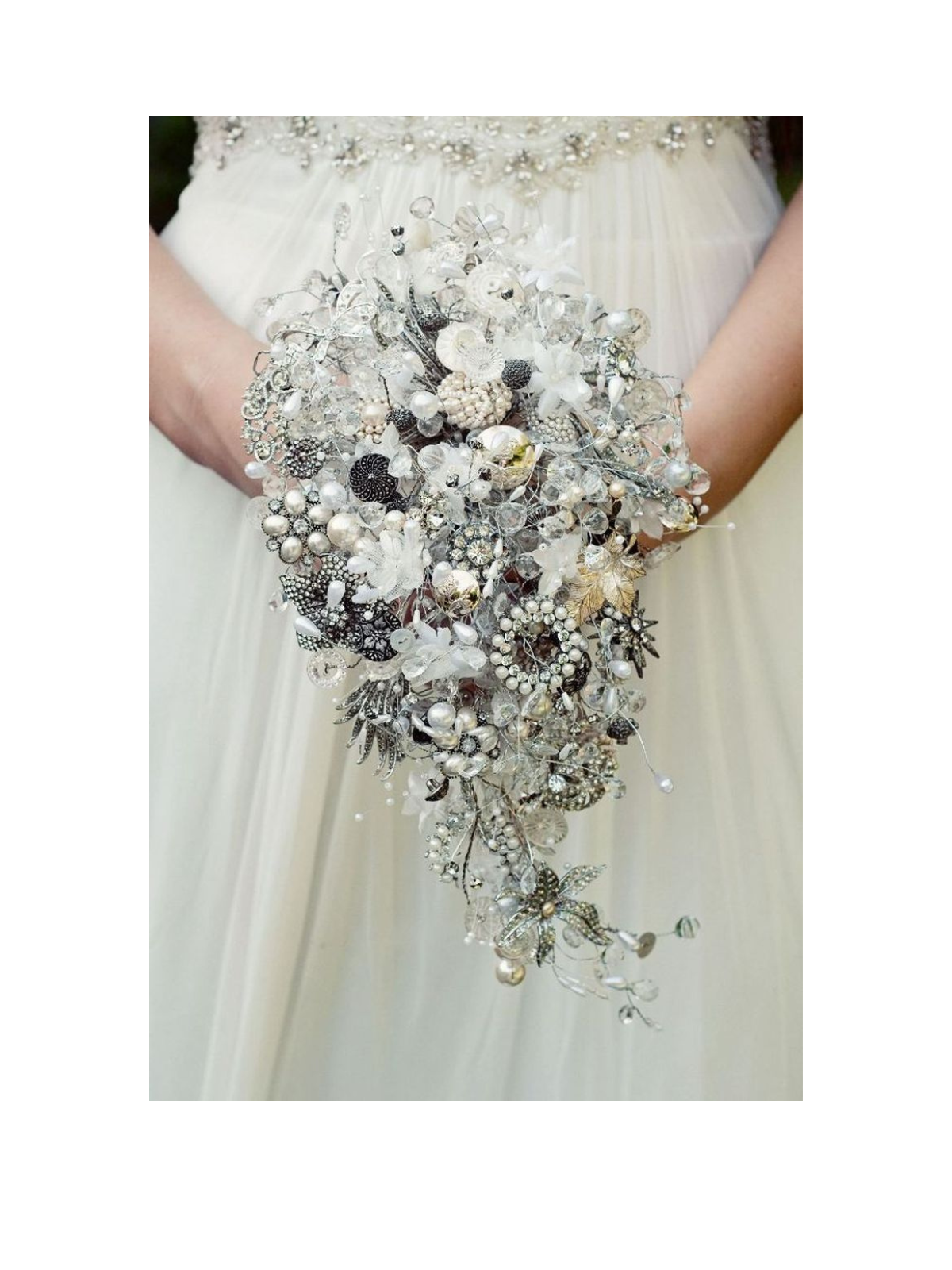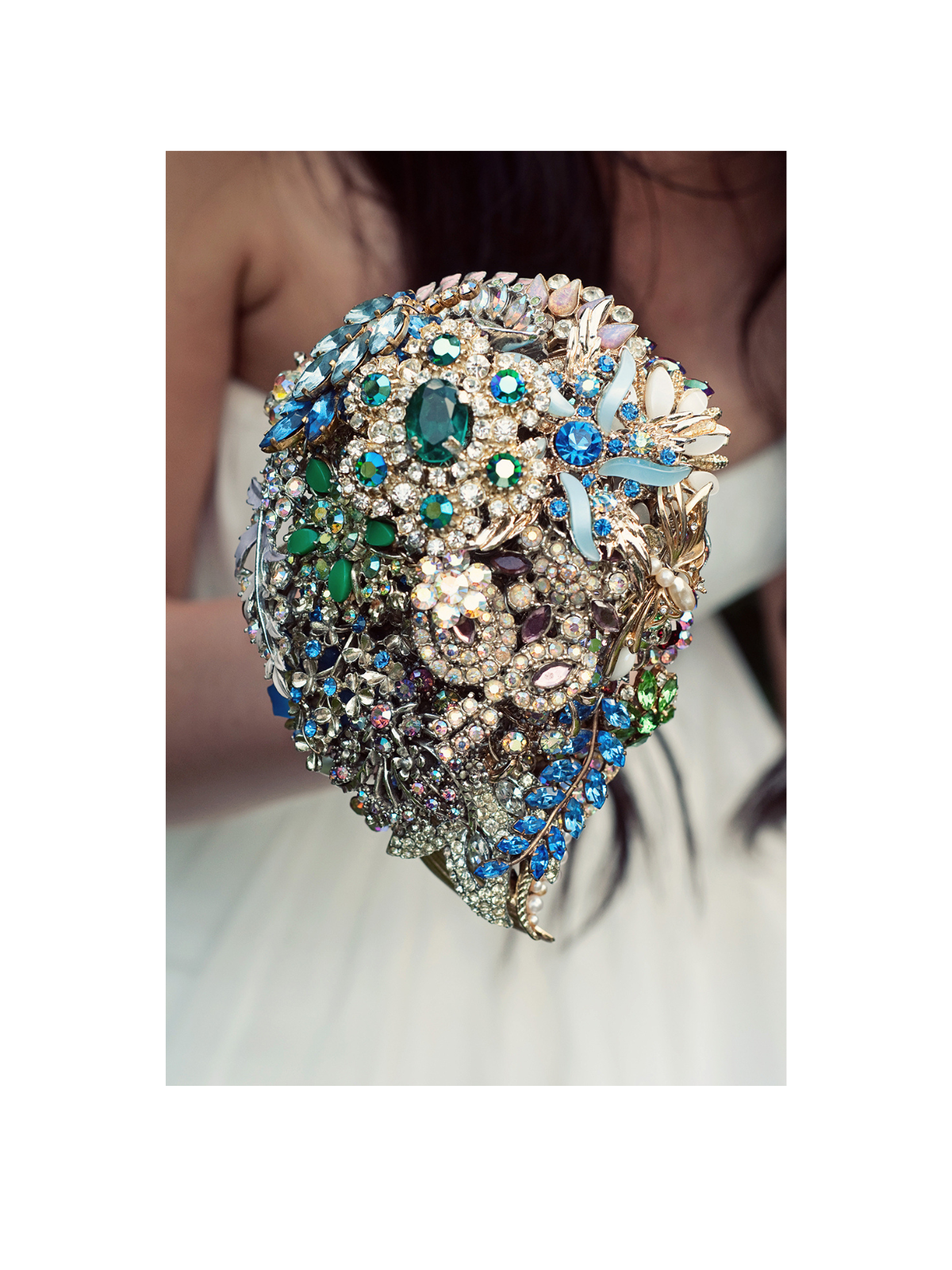 Carefully Sourced
Debbie carefully sources luxe vintage brooches to add to heirloom jewellery provided by her couples and their family, alongside crystals and pearls to create a meticulously hand-wired masterpiece that is as unique as the couples who commission her.
Treasured Family Mementos
A brooch bouquet with treasured family mementos creates a beautiful and lasting symbol not only of the love story and union of two people, but the joining together of two families. It is also the perfect opportunity to celebrate and include lost loved ones in your wedding by including their jewellery or a treasured memento in your bespoke bouquet. Using vintage and heirloom jewellery also means that no two Debbie Carlisle bouquets are ever the same - as shown here by twin sisters Claire and Ashleigh.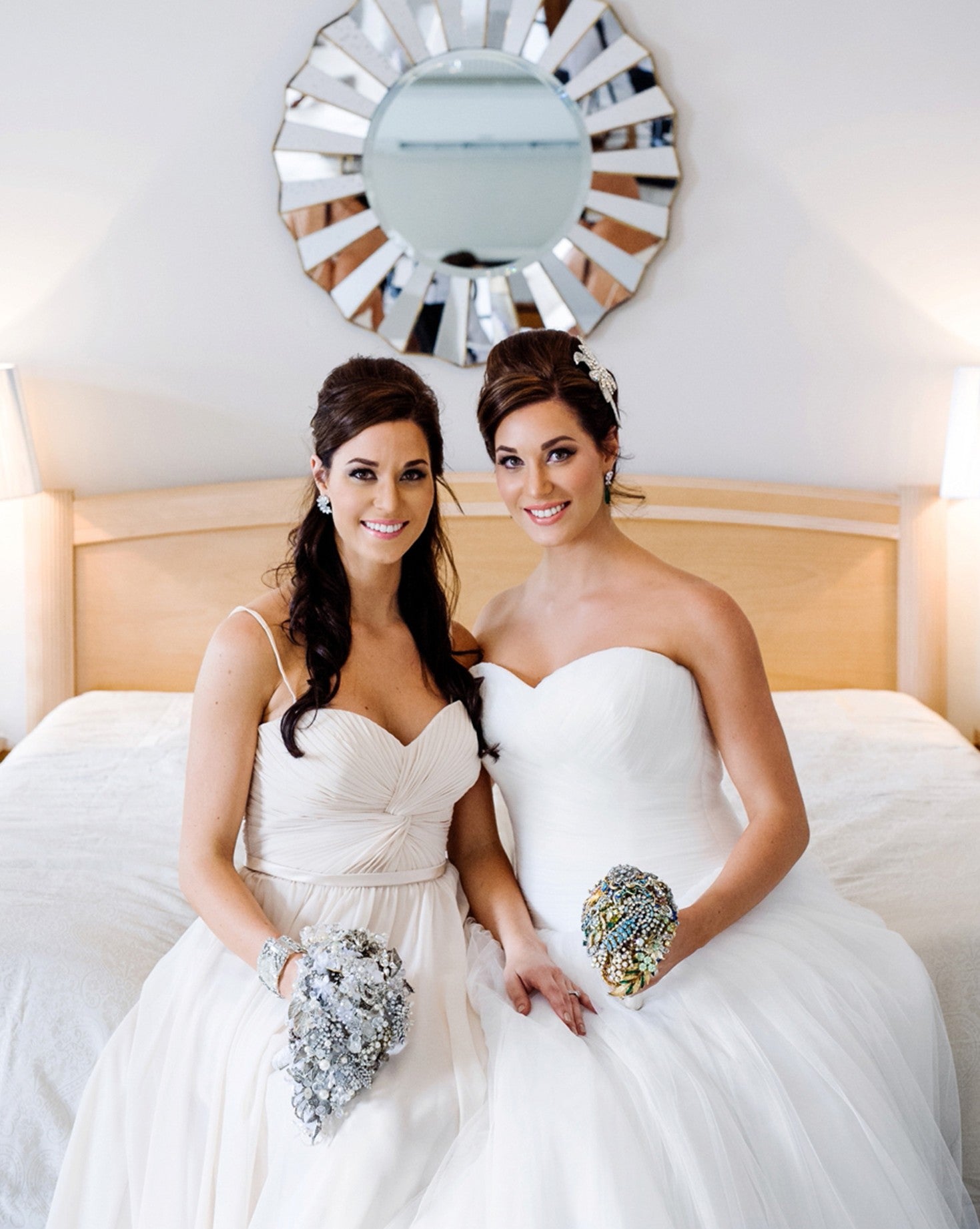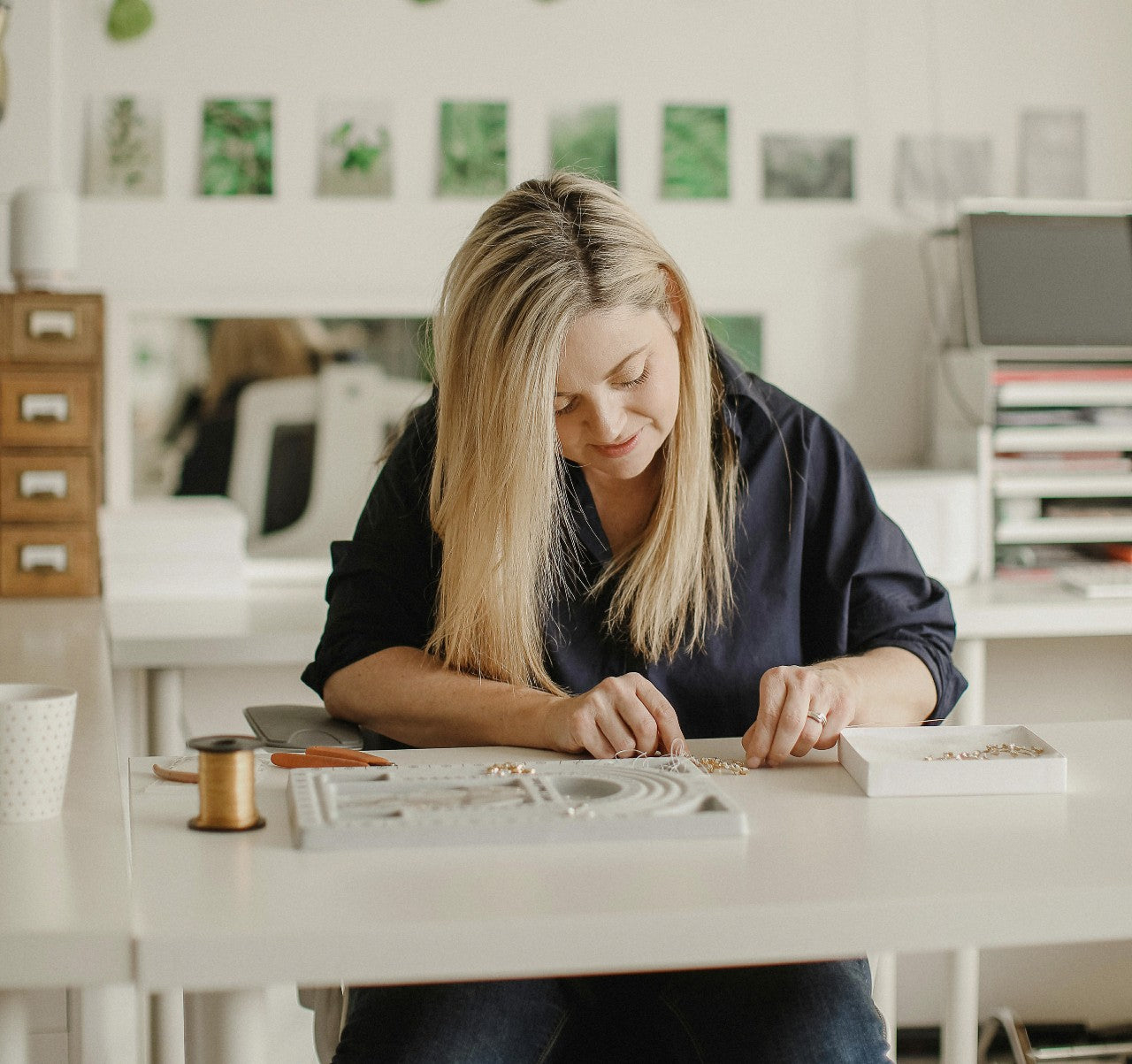 A Personal and Artistic Journey
Crafting a hand wired jewellery bouquet is a deeply personal and artistic journey, and Debbie dedicates her utmost attention, skill and love to the couples who commission her and who share her passion for exceptional craftsmanship and bridal luxury. Debbie works closely with her couples to create a bouquet with the perfect mix of style and colour to suit their wedding. Each piece is crafted by Debbie in her signature 'teardrop' shape - a stunning natural and organic trailing design which she first created for her own wedding in 2009. Clients can also commission matching buttonholes, boutonnieres and corsages for the wedding party.  
Bespoke
Request A Bouquet Consultation
Bouquets range in size and price between £995 and £2,995. To request a consultation with Debbie to discuss a brooch bouquet simply fill in this form.
Frequently Asked Questions
How are your bouquets made?

Every bespoke bridal brooch bouquet is made by hand by Debbie Carlisle in her Sheffield, UK, studio. Every element is individually wired together by hand to create your own unique bouquet.

Debbie carefully sources jewellery to suit your preferred colour and style, spending months scouring antique fairs and boutiques to find the perfect pieces for your design.

The resulting bouquet works like a real floral bouquet with all the pieces resting on wired 'stems' which weave into and around each other to create the most beautiful organic shapes. 

Debbie works freehand to create a natural look and does not use polystyrene or mesh to create her designs.
How soon should I book?

As soon as you know you would like a Debbie Carlisle brooch bouquet as diary slots are very limited. As a general rule, six to 12 months notice for bouquet orders is ideal - this gives Debbie lots of time to source the best vintage pieces for your bouquet - the longer she can spend sourcing your jewellery the more likely she is to find the perfect pieces for your unique style.

Short notice orders are sometimes possible - email hello@debbiecarlisle.com or use the contact form to check availability.
Do you get fully booked?

As every bouquet is handmade by Debbie only a limited number are made every year. Brides often book Debbie to make their bouquet more than a year in advance to be sure of securing their wedding date.

Once you are sure you would like to commission Debbie, get in touch as soon as you can to avoid disappointment and to give her the maximum amount of time to source the best materials for your chosen design.
How do I pay?

Once you have agreed a design with Debbie, a 50 per cent non-refundable deposit will secure your booking. No booking is guaranteed until the deposit has been paid. Debbie will send progress pictures of your bouquet and full and final payment is only taken when you are satisfied with the photographs of your completed order.
When will I receive my bouquet?

Orders are prioritised by the date of the wedding. Bouquets will generally be ready around one month before the wedding day or date of departure for the wedding destination. If you require your bouquet sooner than one month before your wedding this may be possible by request.

Your bouquet will be shipped to you once full and final payment for the bouquet and shipping has been received.
Will my bouquet be safe in the post?

All orders are beautifully presented in a branded gift box and packaged lovingly to ensure they reach their destination in one piece and are sent by tracked and insured post or courier.
How much does postage and packaging cost?

Debbie has made bouquets for brides all over the world and welcomes orders from any country - just get in touch for a personalised postage quote. Please remember that any customs fees due are the responsibility of the customer.
How do I place an order?

Fill in the consultation request form and we'll be in touch to begin your creative journey!
As seen in