Inspiration
Real Brides
Here are just a few of Debbie Carlisle's real brides - browse the pictures below to find inspiration for your own wedding accessories!
Crowning Glory
Amy chose the Coraline crown in pale green and gold crystal which was perfection styled with her beautiful golden hair in a gorgeous woodland setting. Visit the blog for more pictures by Fly On The Wall Photography
Rustic and Whimsical
Abi came to my studio to choose her hair accessory and we picked out my Rosemary hair vine in freshwater pearl which looked so beautiful pinned into the back of her natural half up half down hairstyle. The pearls were the perfect finishing touch for her beautiful Grace Loves Lace gown and mirrored the incredible sheen of the fabric, while the relaxed rustic fronds of her headpiece worked perfectly with her outdoor wedding.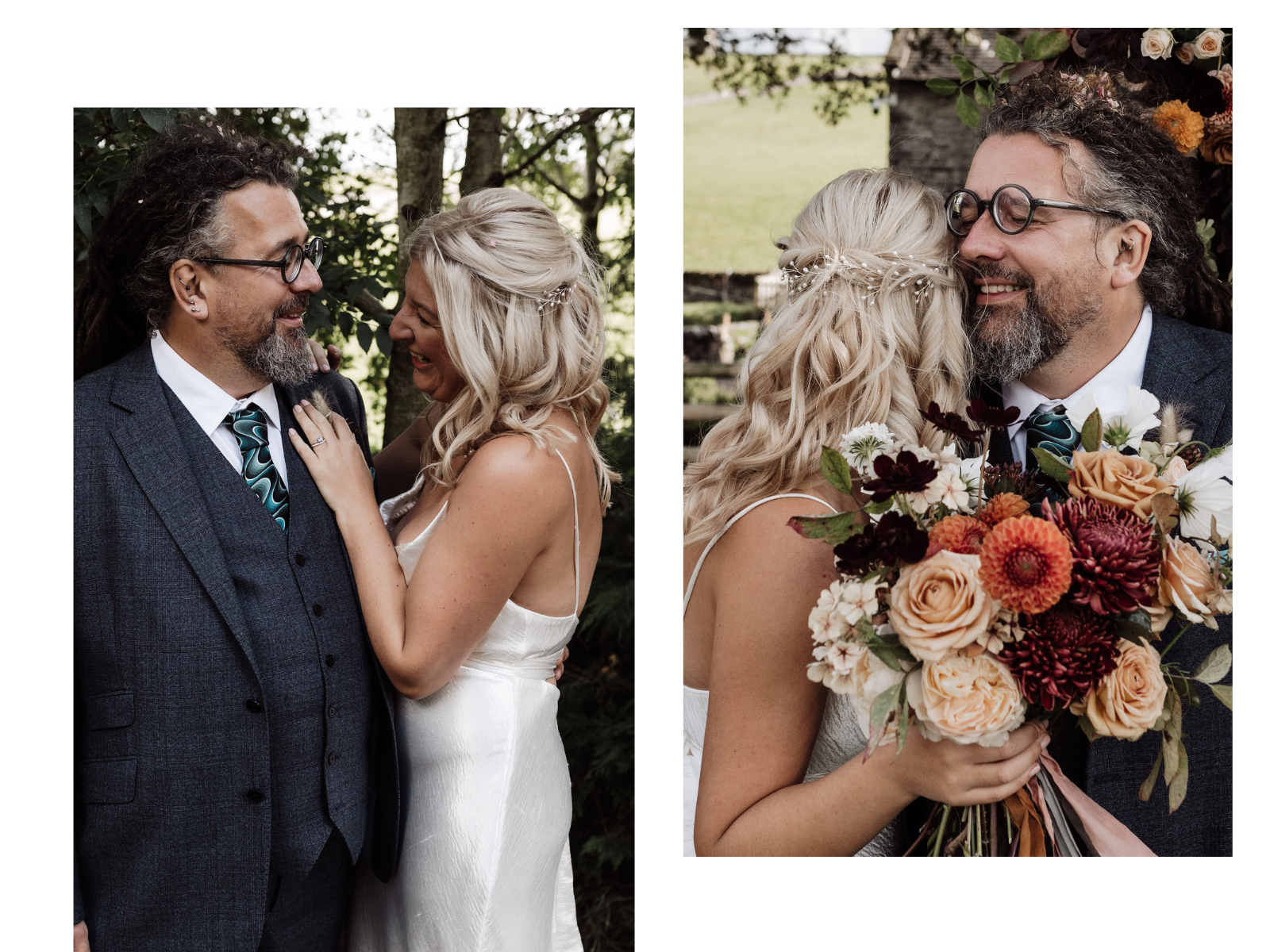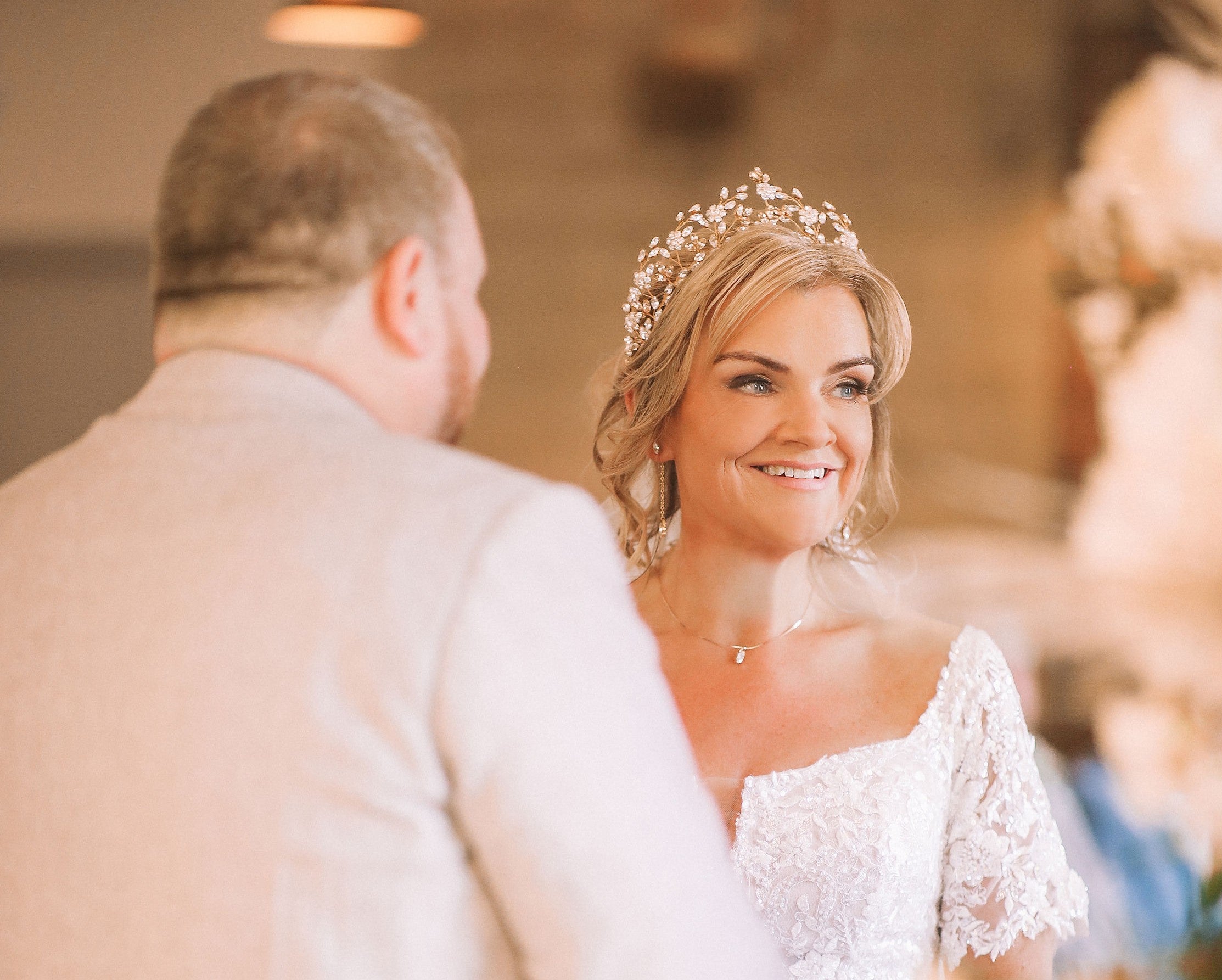 A Bespoke Crown
I created a bespoke crown and matching hairpins for Joanne's wedding - we adapted two existing designs to suit Joanne's unique style, adding golden toned crystals and extra pieces to create brand new designs based on my Mabel crown and Nova hair pins. Joanne was a dream to work with and I adored bringing her ideas to life. Picture by Rosie Hardy.
Modern Classic
Mia chose the Esme padded headband birdcage veil to add an editorial finishing touch to her bridal look. The result was this stunning modern classic look that combines a timeless elegance with a touch of cool bride chic. Visit the blog for more beautiful pictures by Marta D Weddings.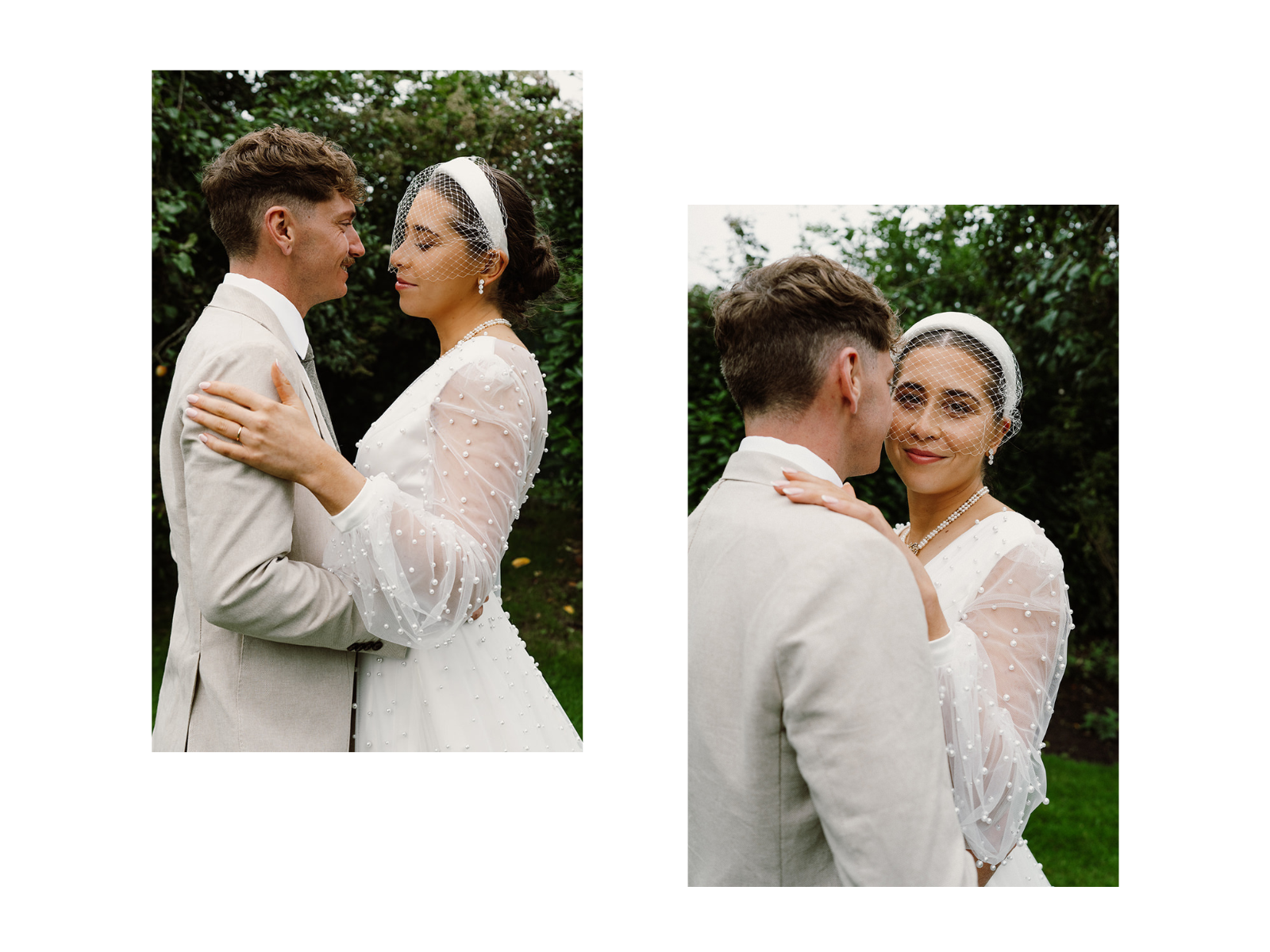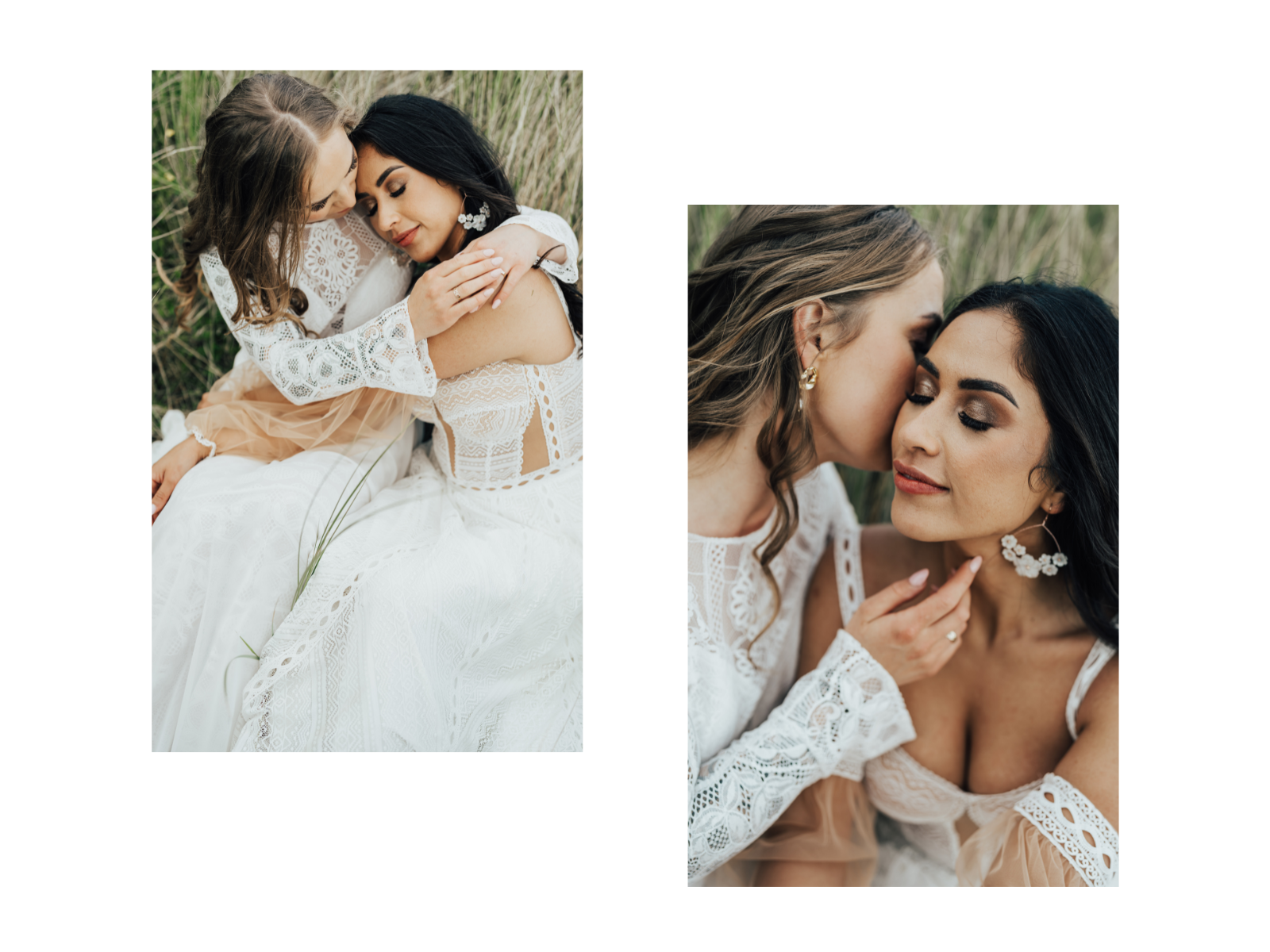 Free Spirited Boho
Kelly chose the Beth statement mother of pearl earrings for her free-spirited coastal wedding to Ula. They were the perfect choice for Kelly's beautiful boho look - visit the blog to read more about their beautiful day and incredible barefoot beach photos by Rebecca Carpenter Photography.
Relaxed Elegance
Ellie chose her May gold hairpins during a visit to my studio for a consultation and you can see just how perfectly they work with her gorgeous Kate Beaumont gown. I love her mix of relaxed, elegant, cool, vintage glamour!
Pictures by www.rosiekelly.co.uk
Woodland Wedding
Kirsty wore a bespoke emerald green and gold crystal hairvine based on the Sylvie design. She said: "Without a veil, I wanted something to finish off my look; my bespoke hair vine did that and more, it was the sparkle I needed. The amount of people on the day who complimented me on my headpiece was phenomenal, it really added so much to my final look. I felt so special."
Photographs Fifteen Photography
A Bespoke Halo
I was so honoured to make a bespoke wedding headpiece for my beautiful friend Rachel. We used two of my Celine hairvine designs as inspiration for her unique halo circlet which featured the tiniest crystals in a super-delicate botanical arrangement that suited Rachel's style perfectly!
Pictures S6 Photography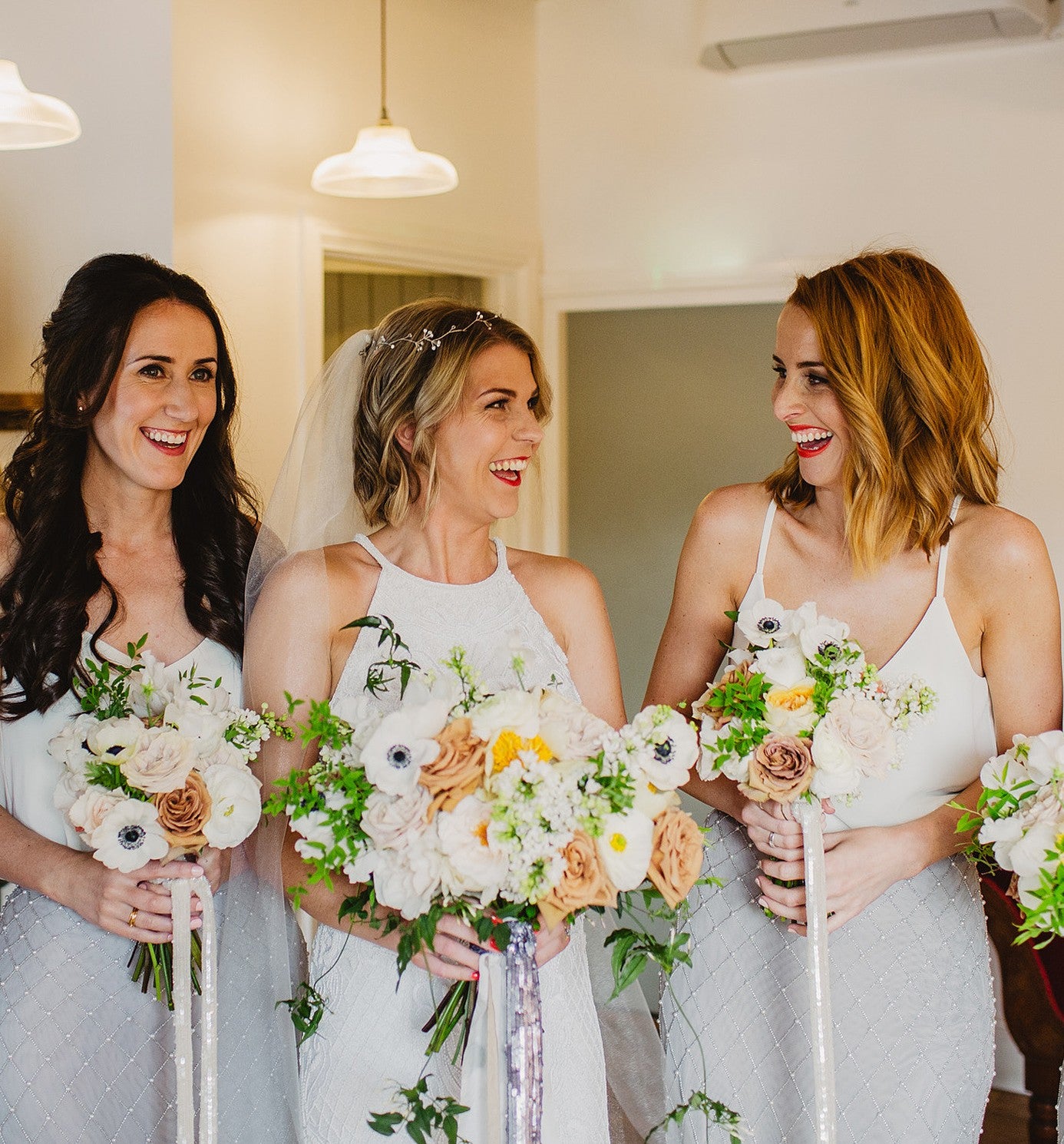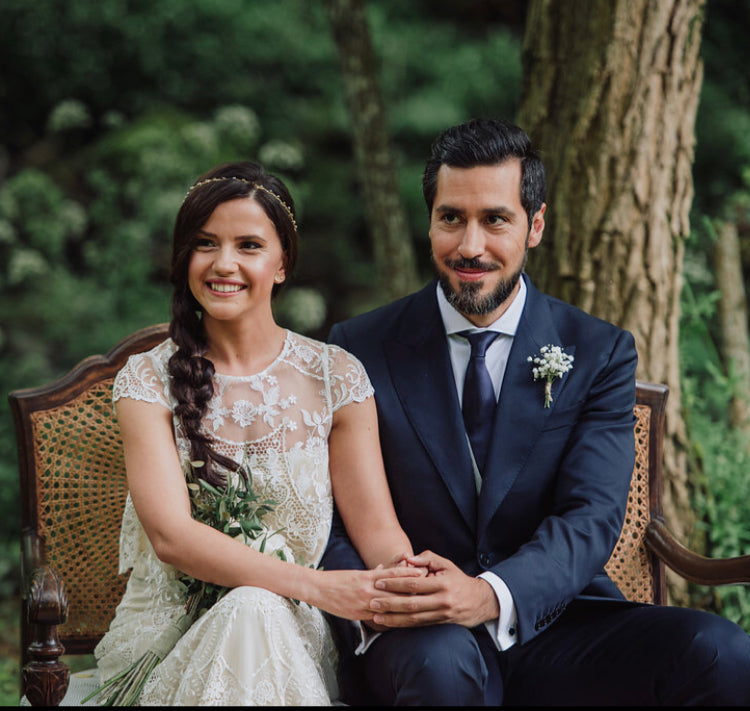 Boho Romance
Romanian bride Cristiana married her Chilean husband at a truly international wedding in Spain. Cristiana wore an Immaclé Barcelona gown and Jimmy Choo sandals with her gold Haillie circlet - and her super-stylish romantic bohemian nuptials made it into the pages of Spanish Vogue. Photographs Susana Rios
Bespoke Hairvine
Becca chose a bespoke version of the Isadora hair vine which I made using gold plated elements to suit her rich vintage style look instead of the usual silver plating. She said: "I honestly can't thank you enough for creating my bespoke Isadora headpiece. Everyone commented on its beauty throughout the day, and your advice really ensured my dress and accessories worked together wonderfully."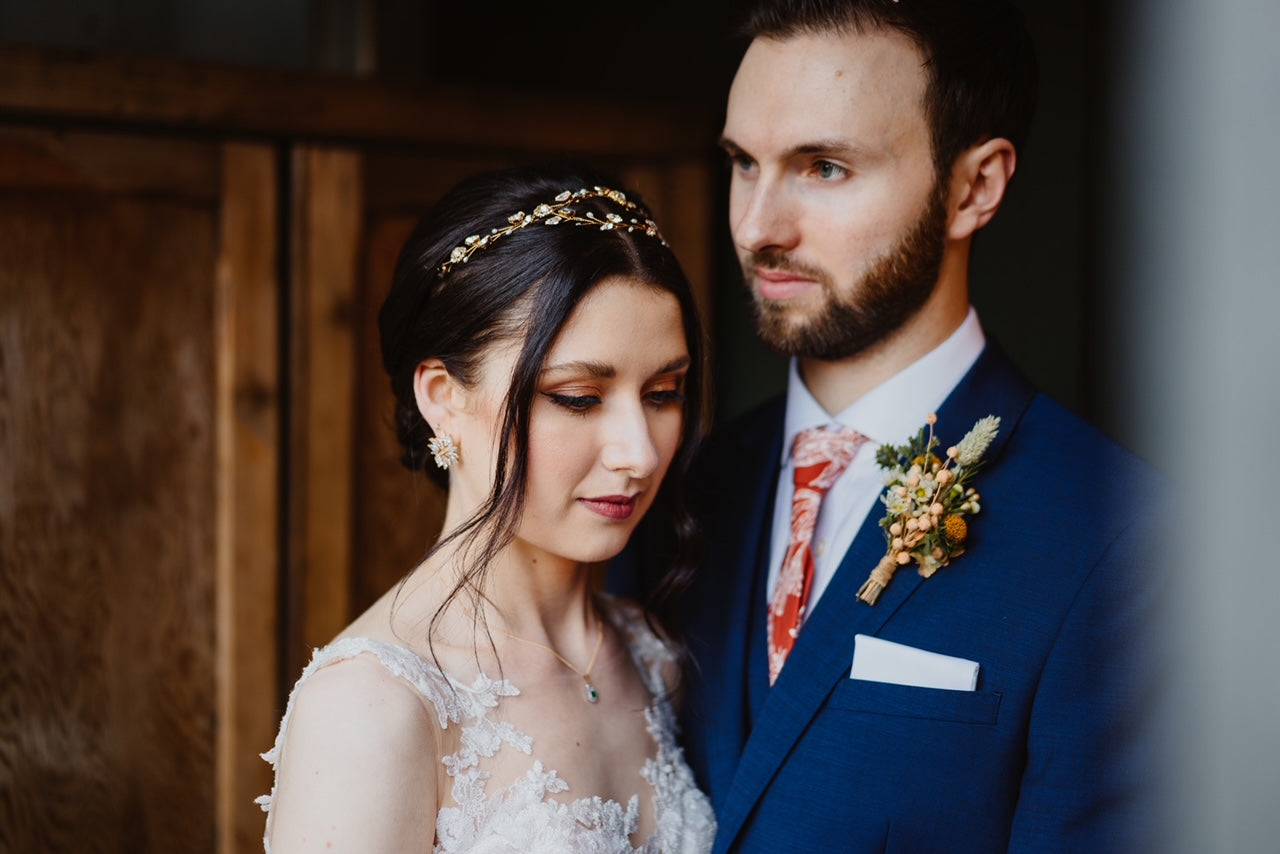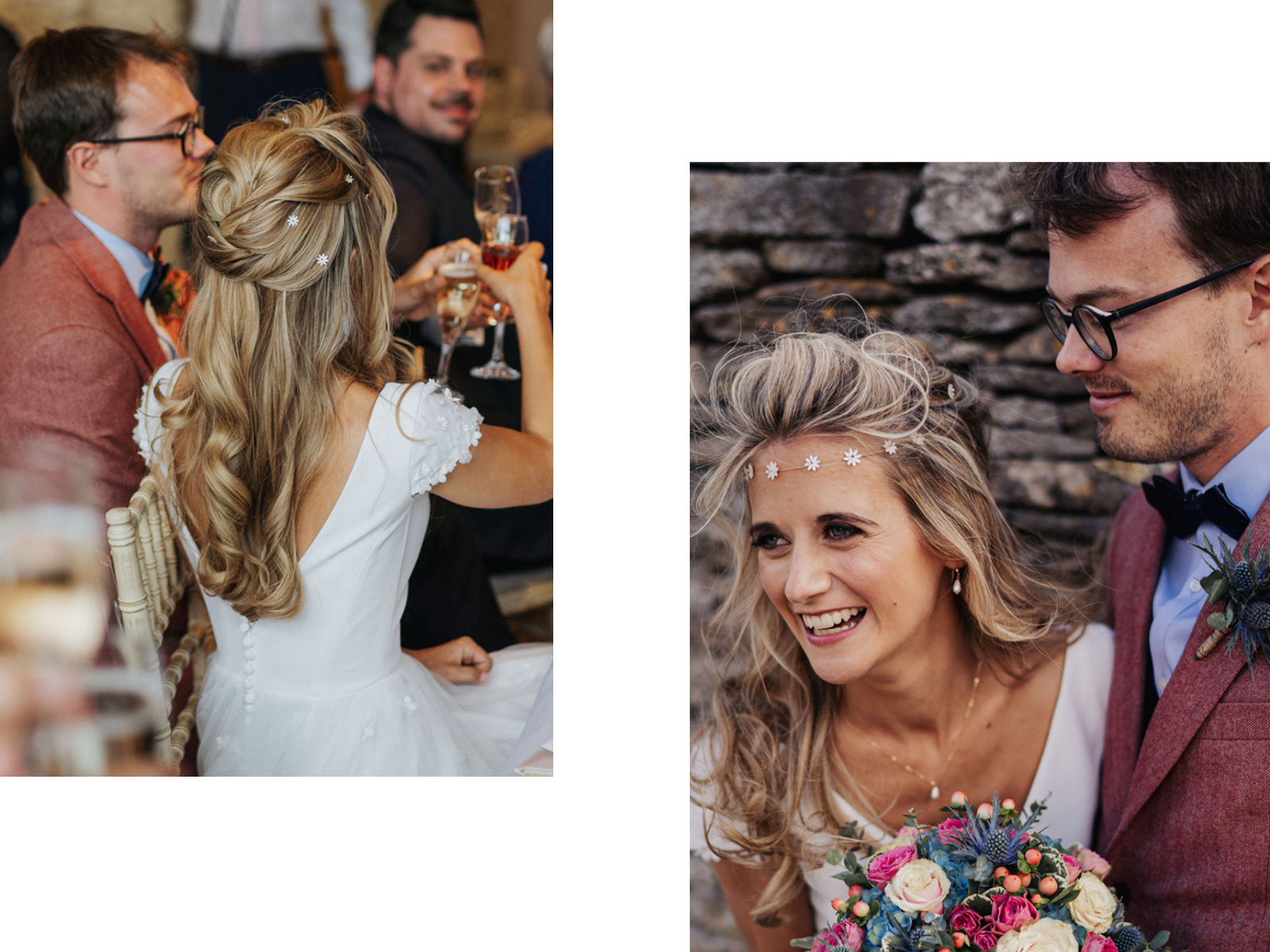 Dreaming of Daisies
Lucy picked the perfect floral inspired hair accessories to match her wedding gown! My Daisy hair vine and matching hair pins were a fabulous compliment to the delicate 3D floral detailing on the sleeves and tulle skirt of Lucy's glorious gown. Pictures by Kit Myers Photography
Relaxed Vintage
Rachel chose my Isabella mother of pearl flower hair vine in silver to accessorise  to her elaborately beaded gown. With fringing and beading, Rachel's gown was the star of the show. The simplicity of this hair vine was perfect, adding an extra nod to the 1920's with its forehead positioning. Photographs Samuel Docker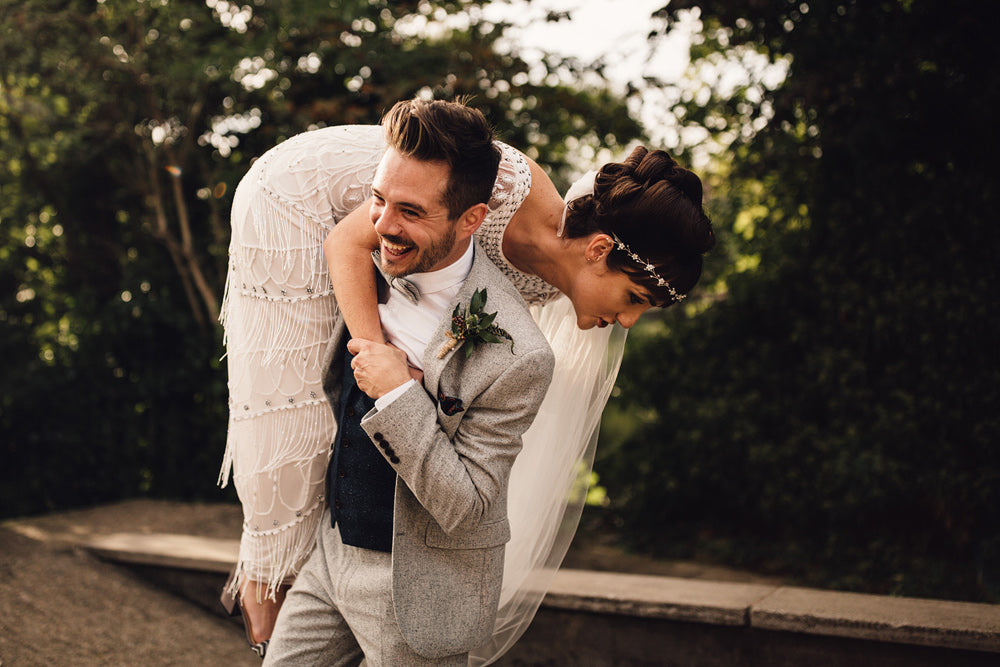 If you would like to have your photograph included in this gallery of happy Debbie Carlisle brides please send your pictures (with the photographer's name and website) to hello@debbiecarlisle.com - we would love to see them!